The Tunnels of Derby
I've long known about the series of tunnels lying underneath the downtown Derby area, but never had an opportunity to actually see it with my own eyes until now.
Unfortunately, when I went down to look, I wasn't able to get very close due to safety precautions. I was however able to catch a glimpse of the opening, which was at least partially satisfying considering it will soon be completely filled in to make way for new construction.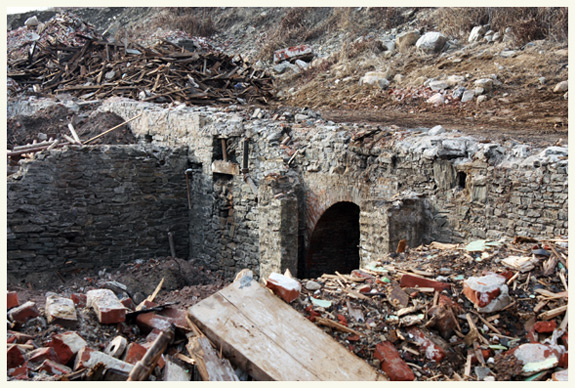 The tunnels were built in the early 1800's as a part of a canal system that fed water from the Naugatuck river to power several downtown factories. This particular opening was in the foundation of the "The Big Copper Mill", one of the first factories built in Derby. The building was recently condemned and demolished following a partial collapse of the roof, exposing the tunnel opening and turbines that once powered the factory.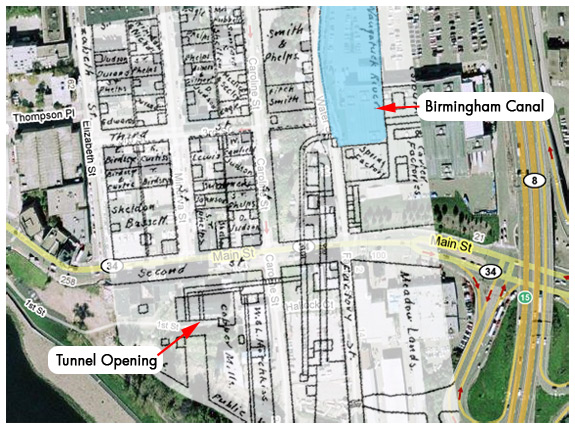 To give a clear demonstration of where these tunnels are actually located, I took a map from 1848 and placed it over a current satellite view of the downtown area. The map places the tunnels in the exact place where the opening was recently exposed. The reservoir which fed the water through the tunnels was located in the area where Home Depot's parking lot is currently is.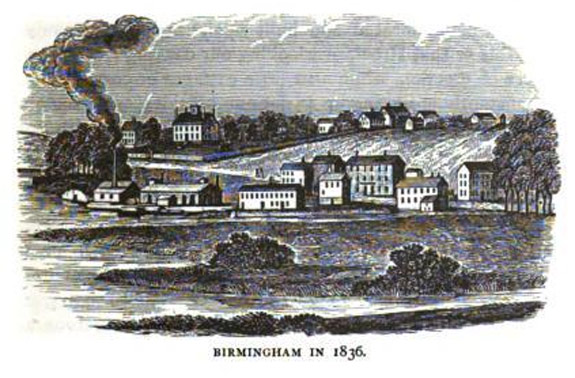 The etching above, taken from "The History of the Old Town of Derby, Connecticut, 1642-1880", depicts the factory on the left-hand side shortly before it was put into operation. The accompanying text reads:
"This village was commenced in 1834. There are at present (July 1 1836) about twenty dwelling houses and three mercantile stores; there is in and about to be put in operation one factory for making sheet copper and copper wire one for making augers one for making carriage springs and axles one for making nails or tacks one for flannels and satinets with some other minor manufacturing establishments. The water by which the mills and factories are put in operation is taken from the Naugatuck by a canal which extends upwards of a mile and a half northward of the village. A steam boat is about to commence running between this place and New York Part of the Leaven worth bridge over the Ousatonic is seen on the extreme left. The dwelling of Sheldon Smith Esq is seen a little eastward of this on the elevated ground above the copper factory. This edifice is elegantly situated and commands a most beautiful and interesting prospect to the southward particularly of the village at the Landing and the passage of the Ousatonic through what is called the Narrows."
Reposted on the Connecticut Weekender here. Video of the tunnel can be seen here. Additional photos can be seen here.