The weekend in Inishmór
The other week I made my second visit to Ireland this year. It was a much shorter trip than the one I took in August, and had a very different feel to it. This time around I was there primarily to visit some friends of mine, whereas the last time around I was there to tour the country. My friend Rachel and her boyfriend James were kind enough to let me stay in her home in Limerick for the few days I was over, and for the most part we just relaxed.
The one big plan for the weekend was to visit Inis Mór, one of the Aran Islands located in Galway Bay. The islands are known for their strong Irish culture and loyalty to the Irish language and are only accessible by a small plane or boat. To get there we had to take about a three hour drive north past Galway and through Connemara to a ferry in Ros a' Mhíl. The ferry ride was about an hour long, and we arrived on the island sometime after dark.
The first thing that struck me was how quiet the island was. Aside from the few cars that were waiting at the pier when we arrived, there wasn't a vehicle in sight. The sky was perfectly clear and we could see ten times as many stars as I could ever see back home in Derby, and aside from the waves crashing and a few teenagers playing on the steps near our hostel, there wasn't a sound.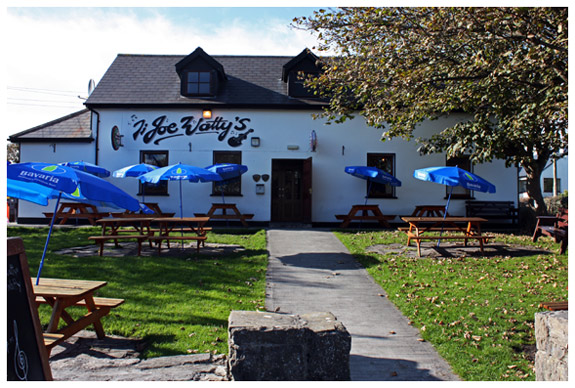 At night we walked up the hill to a pub called Joe Watty's. They had some of the best Guinness I've ever had and the experience was a memorable one. There were some regulars, some sober, some drunk.. one guy with no teeth and drool all over his face who was stumbling from one table to a next trying to find someone to join him for a dance. Then there some people visiting from the mainland of Ireland, including a man from Dublin sitting on a stool in front of the musician singing along, who dropped his pint on the floor then made his way towards our table for a sloppy sing-a-long of the Saw Doctor's "N17" – a song I had never heard before until that night. By the time the night was over we found ourselves acquainted with a number of people, including three other Seans – a first in my life.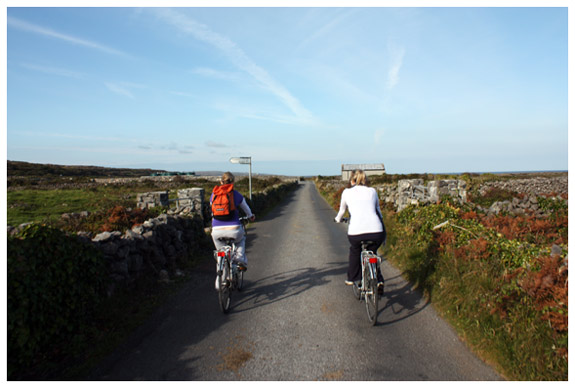 In the morning the three of us rented bikes for the day. Since there aren't many cars this is the primary way to get around the island. We rode from Killronan, the main town of the island, to a prehistoric fort on the cliffs about four miles away known as Dún Aengus.